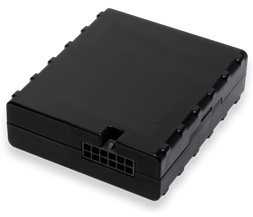 Fonix FT101
The FT101 is a small tracker with internal high gain GSM and GNSS antennas, which collects and sends location and other meaningful data to our servers. This device can be used in a variety of environments but has been predominantly designed for fleet management.
Device Features
• Real Time tracking
• Driver Behaviour Data
• Smart data acquisition settings
• Auto Geofencing for car towing detection and car theft prevention
• Towing detection using accelerometer
• Crash detection
• OTA Firmware Updates
• Immobilisation (Ignition crank only)
• Driver ID
• Buzzer
• Luton Door Sensor
• PTO Sensor
• Internal Back up battery
Device Spec
• 2 Digital Inputs (1 reserved for Ignition Status)
• 1 Analog Input (10V or 30V range)
• 1 configurable input DIN3 or AIN2
• 2 Digital Open-collector Outputs (connecting external relays, LED, buzzers etc.)
• 1-Wire (iButton , RFID, temperature sensors)
• Built in accelerometer
• Power supply (+10…+30) V DC
• Internal high gain GSM antenna
• Internal high gain GNSS antenna
• 2 Status LEDs
• Integrated LiPo back-up battery
• Dimensions: L(65mm) x W(56,6mm) x H(18,9mm)
GSM
• Quad-band 850/900/1800/1900 MHz
GNSS
• GPS, GLONASS, GALILEO, BEIDOU, SBAS, QZSS, DGPS
• Accuracy < 3
,
A small, feature packed, telematics unit that will fit any vehicle. The FT101 is our most popular device due to its capability and versatility.
,