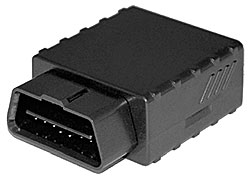 Fonix FT202
The FT202 is an easy plug and play OBD tracking unit with internal GNSS and GSM connectivity, which collects and sends location and other meaningful data to our servers. This device can be used in a variety of environments including: fleet management, car leasing, car rental, taxis, insurance etc.
,
Device Features
• Plug & Play
• Real Time tracking
• Smart data acquisition settings
• Auto Geofencing for car towing detection and car theft prevention
• Towing detection using accelerometer
• Crash detection
• OTA Firmware Updates
• Internal Back up battery
Device Spec
• 1 Digital Input reserved for Ignition Status
• Built in accelerometer
• Power supply (+10…+16) V DC
• Internal high gain GSM antenna
• Internal high gain GNSS antenna
• 2 Status LEDs
• Integrated LiPo back-up battery
• Dimensions: L(50.7mm) x W(49.6mm) x H(25mm)
,
GSM
• Quad-band 850/900/1800/1900 MHz
• GPRS Multi-Slot Class 12 (up to 240 kbps)
GNSS
• Tracking: 33/ 99 acquisition channels
• -165 dBM sensitivity
• NMEA-183 protocol
• Accuracy < 3
,
With the install only taking seconds, the FT202 enables you to track your fleet quickly and easily. The OBD tracker compliments the hardwired trackers giving you flexibility as the size of your fleet fluctuates during busy / quiet times.
,