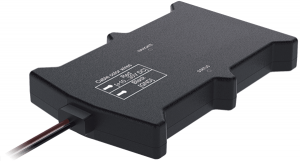 Fonix FT401
The FT401 is a two-wire plug and play tracking unit with internal GNSS and GSM connectivity, which collects and sends location and other meaningful data to our servers. This device can be used in a variety of environments including: fleet management, car leasing, car rental, taxis, insurance etc.
Device Features
• Plug & Play
• Real Time tracking
• Driver Behaviour Data
• Smart data acquisition settings
• Auto Geofencing for car towing detection and car theft prevention
• Towing detection using accelerometer
• Crash detection
• OTA Firmware Updates
• Internal Back up battery
Device Spec
• 1 Digital Input reserved for Ignition Status
• Built in accelerometer
• Power supply 10 V – 30 V DC
• Internal high gain GSM antenna
• Internal high gain GNSS antenna
• 2 Status LEDs
• Integrated LiPo back-up battery
• Dimensions: L(88mm) x W(60mm) x H(12mm)
• IP65 Rated Case
GSM
• Quad-band 850/900/1800/1900 MHz
• GPRS Multi-Slot Class 12 (up to 240 kbps)
GNSS
• Tracking: 33/ 99 acquisition channels
• -165 dBM sensitivity
• NMEA-183 protocol
• Accuracy < 3
With the install only taking seconds, the FT401 enables you to track your fleet quickly and easily. The battery mounted tracker is perfect for fleets who have a high turnaround of vehicles giving you a tracking solution without the high engineering costs.
,